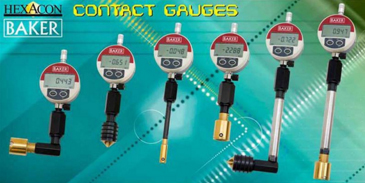 Plug gauges are mobile when used with our ED 01 Electronic Digital dial gauges with 0.001mm least count.
The plugs are manufactured from the finest quality of tool steel and are Titanium coated as standard having a surface hardness of 2200 HV.
Each gauge has a wide measuring range of IT 10 with 0.001mm repeatability.
Can be supplied for through or blind bore applications. (See ranges) - Two point are standard but can be also supplied in three point checking (See ranges).
Can also be supplied for multiple bores, Stepped bores, taper bores, under cut diameters and width checking on special request delivery.
Suitable extensions can be given for deeper bores.
>
The plug gauges can check bores ranging from 6mm to 280 mm.
Ideally suited for bores having porosity or lower surface finishes.
As a standard all measuring points are of carbide.