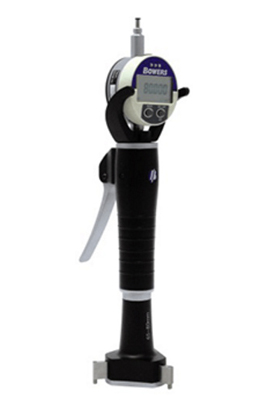 Fast, accurate measurement.
Resolution 0.001mm (0.00005").
Tungsten carbide measuring faces on all 3-point heads from 12.5mm.
Blind bore measurement above 12.5mm (0.500").
Extensions available for deep hole measurement.
Setting rings included with individual instruments and sets.
UKAS certificates supplied with all gauges.
Serial number on all gauges and measuring heads.
Heads with special anvils available to suit specific customer requirements.
(e.g. Threads, grooves, 2-point, spherical, splines etc).
Bore gauges manufactured according to DIN 863, part 4.
Measuring range 6-100mm ( diameters above 100 on request ).
Excellent for vertical bore measurement.
Simple 2-button operation.
3 preset memories.
RS-232 output.
Self-centering heads.
Constant measuring pressure.