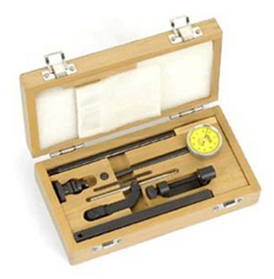 Swinging Arm Assembly enables the back plunger dial gauge to be used for internal work up to a depth of 40 mm similar to a lever type gauge.
'G' Clamp, Tool Post Holder. Holding Rod and Universal Clamp allows multiple types of mountings possibilities.
Versatile combinations, allow gauging applications like concentricity checks, alignment of machine tools, testing parallelism and surface plate work.
For the American market, Universal Test Set meeting the requirements of AGD standard available.
Consists of Back Plunger Dial Gauge, 'G' Clamp, Universal Clamp, Swinging Arm Assembly, Tool Post Holder, Holding Rod, Tommy Bar and Anvil.
Supplied in a sleek wooden case with accessories.

1. G Clamp
2. Swinging Arm Assembly
3. Tool post Holder
4. Holding Rod
5. Universal Clamp
6. Tommy Bar
7. Anvil