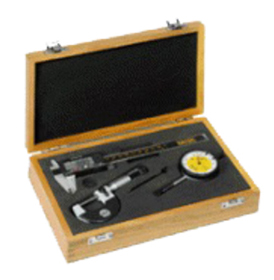 External Micrometer Model MM 25:
Carbide tipped Measuring Faces.
A built in Ratchet in the Thimble to facilitate single hand operation.
Wide Heat Insulating grip plates to cover entire handling.
Robust design to withstand workshop conditions.
Deeper laser marking for error free reading.
Plunger Dial Gauge Model J02:
A Sturdy Robust gauge with shock proof mechanism.
Supplied with Tungsten carbide ball anvil.
Aesthetically appealing dust prevention cap provides added protection while burnished plunger exhibiting mirror finish adds to superlative performance.
Digital Caliper Model RD10:
Extra large-11mm, high contrast Liquid Crystal Display (LCD) allowing easy reading Thumb-roller fitted as a standard for easy controlled operation.
High accuracy capacitive measuring system, with high speed movement.
High quality construction: Measuring faces and beam made of harden stainless steel.
Exceptional quality to price ratio.
Each instrument carries a calibration certificate giving actual values.