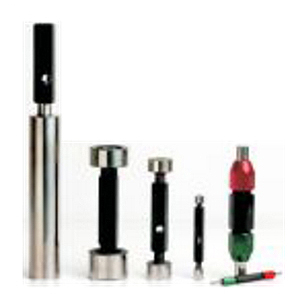 Description
Plain Plug Gauges are manufactured from special grade, hot iso statically pressed submicron grained tungsten carbide material which is ground and precision lapped to ensure the highest quality and life in use. We manufacture Carbide Plug Gauges in sizes ranging from 0.5 to 200 mm diameter in three types of designs depending on the Gauge diameter. 0.5 to 20 mm - Reversible type design 8 mm to 40 mm - Taper shank type design 30 mm to 200 mm - Segment & Trilock type design We offer a choice of choosing between GO & NOGO both in Tungsten Carbide and GO made in Tungsten Carbide and NOGO in steel. The latter type is more popular owing to the cost advantage. Our Plug Gauges are manufactured to relevant IS, BS & DIN standards based on customer requests. We also specialist in non-standard designs such as extra lengths,multiple diameters, air grooves, pilots, depth steps and relieved ends. Our steel gauges can be provided with hard chrome plating for prolonged gauge life.
0.30 - 10.00mm - Reversible Pin Type Plug
10.01 - 40.00mm – Taper Lock Design IS 6137:1987
40.01 - 100.00mm – Disc Double Ended IS 6244:1980
100.01 - 300.00mm – Plate Type Plug S/E GO & NOGO - Separate – JE Design
Above 300.01mm - Progressive Type – JE Design
Range: 0.30 to 1000 mm. Fom 1000 - 2000mm available on request.