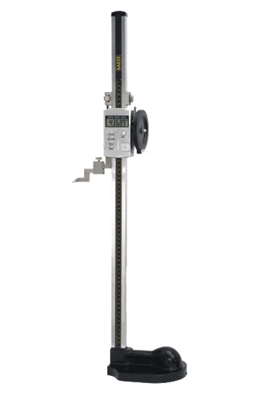 For easy and precise maneuverability the base has a specially designed thumb grip.
Carbide tipped scriber.
Functions consist of Power ON/OFF, bsolute/Incremental mode, mm/in., Preset, Hold, and Tolerance setting.
Capacitive measurement system.
Maximum reading speed 1m/s.
Powered by easily replaceable Silver Oxide Battery.
Operating environment – Temperature 5 to 45 degrees C at < or = 80&percnt; Humidity.
Each caliper carries a calibration certificate giving actual values.
Robustly constructed, Stainless Steel column with clearly marked scale graduation.
A clear Multifunction Digital LCD display runs smoothly on the Analog vertical scale.
Fine adjustment with lock provided for ease of setting.